Sedalia Public Library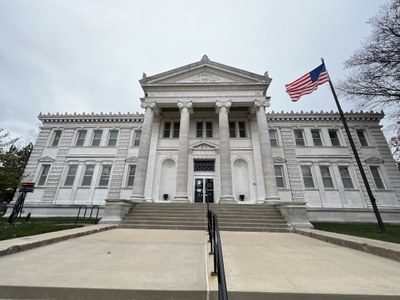 EMAIL US
jsparks@sedalialibrary.com
ADDRESS
311 W. 3rd Street, Sedalia, MO 65301
PHONE NUMBERS
660-826-1314
660-826-0396
HOURS
Monday 9am-7pm
Tuesday 9am-6pm
Wednesday 9am-6pm
Thursday 9am-6pm
Friday 9am-5pm
Saturday 9am-1pm
Sunday 1pm-5pm
The Sedalia Public Library is located near historic downtown Sedalia, MO, on the corner of 3rd Street and Kentucky.
Parking is available in front of the library, on 3rd Street and in a lot behind the library, on S. Moneteau Ave.  Our handicap patrons should use the designated handicap parking spaces directly behind the library and enter the library from the handicap entrance, in the back of the library.  Our elevator is accessible from this entrance. 
The Children's Department can also be entered through the back of the building.  Our bookdrop is located in the alley behind the library.
MAP